Looking forward to seeing you on Thursday 4th July 2019 at the Sporting Emporium Casino on Anne's Lane (where all those colourful umbrellas are hanging up in the air) South Anne's Street, Dublin.
Official opening wine reception at 6pm ( to 7.30pm) with opening speaker David Moore, Astronomy Ireland Chairman.
Note: This event is open to anyone 18 or over (as it is being hosted in a casino).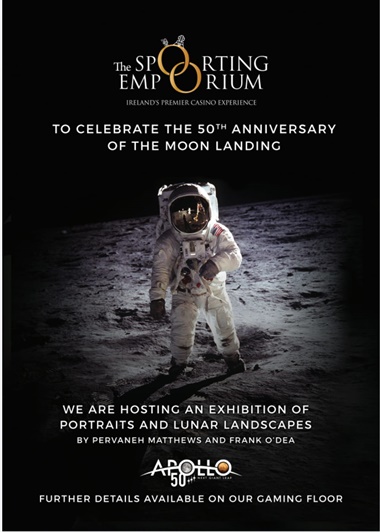 Delighted to see my portrait of Tony Strickland on a banner outside the Shelbourne Hotel advertising "ONE MAN SHOW - an exhibition of portraits"
The Athena Room, Sol Art Gallery, Duke Street, Dublin.
Thurs 14th - Fri 15th December 2017 12 - 5.30pm
" ONE MAN SHOW " will feature paintings, drawings and fine art photography from a large variety of visual artists who have attempted to capture the subject over the past ten years.